In the last couple of days I was busy with going to course and trying to make some crocheted cactus. Searched the internet for pattern/ideas and I found three useful pages what I would like to share with you. All of them has a pattern for different cactus and a little pot with it.
Gleeful Things
- has an excellent little cute cactus for you, with little pot and love :) Three types of sweet tiny cactus.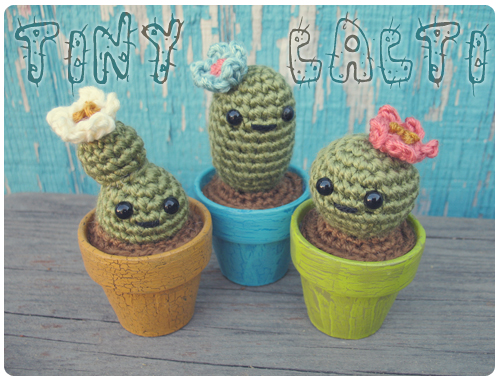 http://www.gleefulthings.com
http://2.bp.blogspot.com/
And at end at flicker there is a photo tutorial by
Nadia380
, this tutorial did Elf use to create her written instructions with some changes I believe.
http://farm4.staticflickr.com/
I used these patterns to create my own little cactus's Tried both methods to create the cactus, and I'm still undecided which I like better. For the pot I think I will use an other method, because somehow when i crochet or sew them together with the dirt part, it just dosen`t looks neat by me, but probably that's my sewing skills :D What are nearly non exciting. Would love to learn sewing!
As usually my own creations will come later in photos.. I always forget to make in the work photos.. I get carried away with crocheting :)
xoxox